It is with graet pleasure that we can anounce that Mike Cotter has agreed to become our new Band President. This position has been vacant since Councillor Bernard Pennington sadly past away in 2018.
Open for Business
Great to be back at rehersals from Monday 6th Sept under our new conductor Paul Dalton. We still have some seats to fill including principal and front row cornets, baritone, solo trombone and percussion. If you fancy a blow, looking to rejoin or know someone who is, drop us a PM for details. Rehersals Monday and Wednesday nights.

30th May 2018

We're sorry to have to report the death of a long standing player, Ray Bannister.

Ray followed his dad Leonard into the the band in the mid 50's and his brother, Peter Bannister followed his dad to play the big drum. Peter still helps us out on the drum. Ray started his playing career at the band and ended here, with periods in one or two other bands including a long spell at Wingates.

The funeral is on Wed 6th June at 1.30pm Radcliffe Crematorium. A section of the band will be playing at his funeral.


" "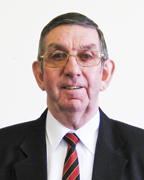 " "

Facebook Comments Sheila Seddon
" Rest in peace Ray, I remember you well from Kearsley Silver "

Gordon Higginbottom
" A real Bandsman. ...I well remember his first Bellevue with Wingates.I walked with him along the bull run . RIP Ray "

James McFadyen
" Sorry to hear about this. I played with Ray at Coppull and Standish Band in 2005 "


Monday 5th June 2018

Darrol Barry (1956 - 2018)
It is with much sorrow that we hear that Darrol Barry (1956 - 2018) has passed away. He was a fine composer and musician and will be greatly missed by the brass band world. He conducted the band (Walkden) for a short period and took us to the  North West Area 2nd Section in March 1996
Sunday 28th December 2017

Brass at the Guild 2018
3 Generations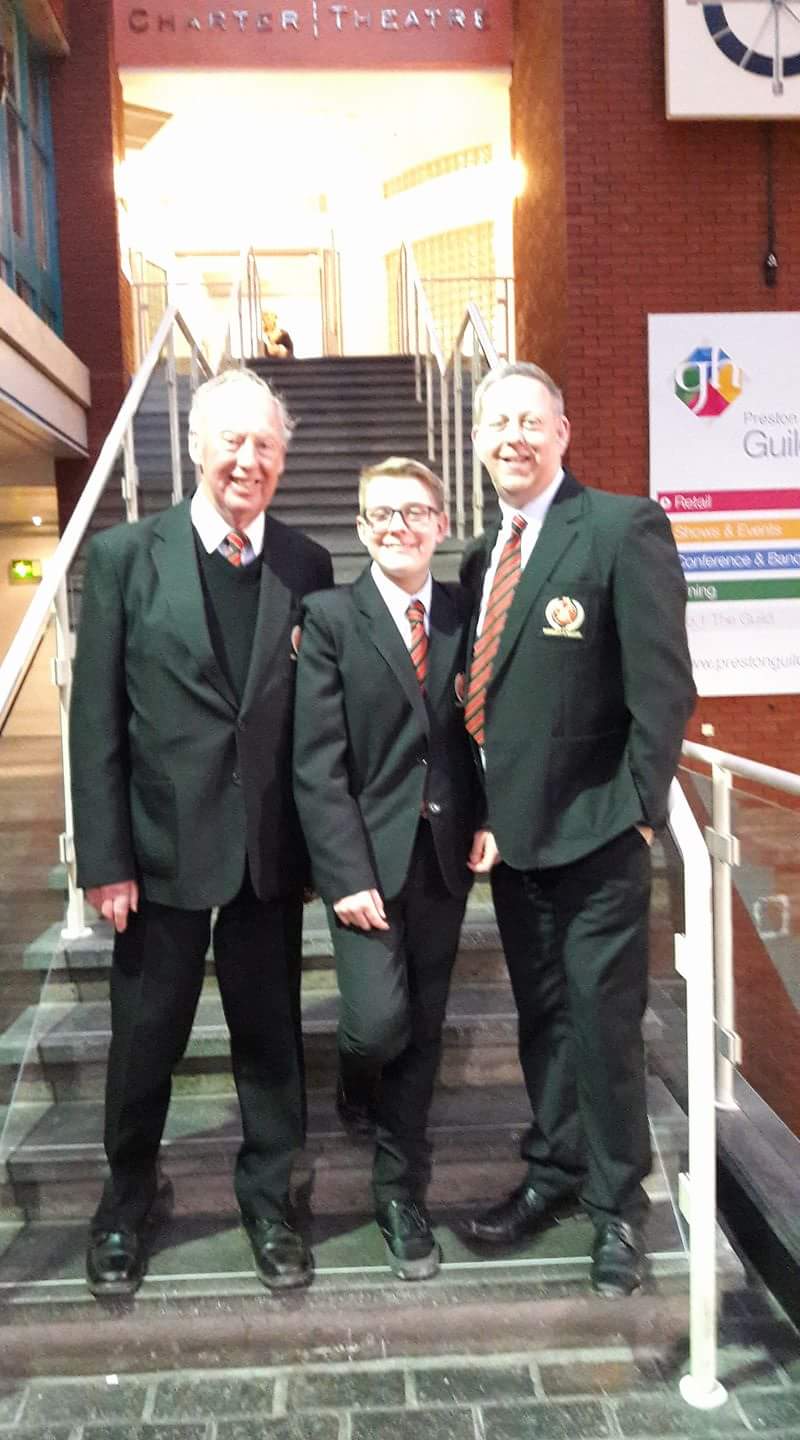 It's 3 generations of Roscoe's at the Brass at the Guild contest and Sam's playing percussion in his first contest
Sunday 10th December 2017

Luke feels the conducting force with Farnworth
Luke feels the conducting force with Farnworth. Read the artical on
4BarsRest
Saturday 9th December 2017

New Conductor Luke Pallister
The Farnworth and Walkden Brass Band are thrilled to announce the appointment of their new conductor Luke Pallister, continuing a strong history of supporting young musicians at the start of their careers.
Luke already has a strong CV behind him playing in the Salvation Army from the age of 7 at Nottingham WBMH corps. At 18 he joined Stamford Brass on principal cornet before moving to Birmingham Conservatoire to study for 2 years. He joined Fodens in February 2017 and loves every opportunity he gets from his cornet position there.
Moving to the RNCM in September 2017 to gain more opportunities in playing and conducting led him to his conducting post at Farnworth.
Luke has told the band, "I feel very privileged to be given the chance to take Farnworth and am already impressed by the work ethic of the band. I am looking forward to taking the band into the 2nd section at Preston in January and then beyond. I have an exciting programme of concerts and contests planned for the band and can't wait to get properly started once the Christmas season has finished. I believe the band have huge potential and I am ready to help maximise that potential."
Friday 1st December 2017

Concert Grande Palais Swinton
Our concert with Royal Salford choir at the Grande Palais Swinton was a great success with the audience up 50% on last year. If you missed it you have the chance to hear our full programme at Kearsley St Stephens on Wed 13th, starting 7.30pm. Come along and meet our new MD, Luke Pallister. You'll enjoy it; I guarantee
Wednesday 1st November 2017

AGM
We are pleased to announce the Barry Hobin has taken the post of Chairman of the Band. You can contact him in the usual way through our band email.
Email -
fandwband@gmail.com
Thursday 23rd February 2017

Bernard Pennington
The band have paid tribute to Bernard Pennington, President of Farnworth and Walkden Band formally Walkden Band for over 40 years. Aged 85 years, he passed away in hospital on Thursday 23rd February 2017.
Wednesday 8th March 2017

Bernard Pennington (Funeral)
Bill Roscoe
I and a small group of band members played a selection of his favourite hymns at the funeral today of the band President Bernard Pennington, which was held at Howe Bridge crematorium Atherton.
The chapel was full to capacity with several dozen people standing outside to witness a beautiful and moving service by the minister, Bernard's daughters Julie,Catherine and their children who together spoke of Bernard as an amazing Grand father.
All the many connections and colleagues over his lifetime were represented and suitable stories about Bernard's love of life and service to the community were told.
Bernard Pennington as was his father Joe before him was President of the Walkden Band (later to become F&W Band)for over 50 years and supported them in any way that he could help.The band is truly grateful for having such a great man as President.
Our thoughts are now with the family and close friends.
Sat 3rd December 2016

Congratulations to Bill Roscoe
Congratulations to Bill Roscoe on 69 years service to brass banding. Seen here receiving a well deserved diamond service award from the Brass Band Association during the concert at Trinity Church Farnworth.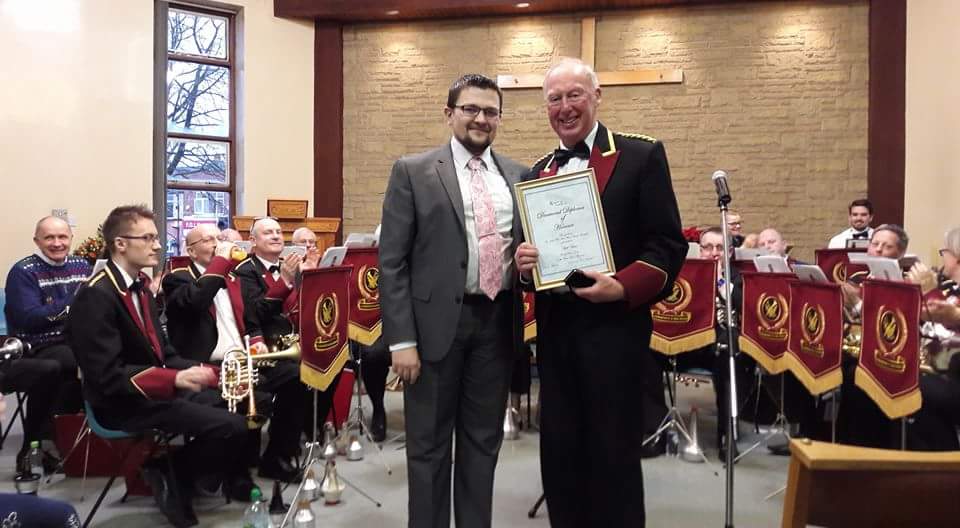 Thank You Arthur
Arthur Worrall, percussionist and long time loyal servant of the band has decided to hang up his sticks. His ingenuity in constructing equipment, including building additional tubular bells, is highly renowned. He will continue to be involved with the band and his advice will still be relied on. Below our Chairman, Jonny Earl, presents Arthur with a picture of the band at Cheltenham.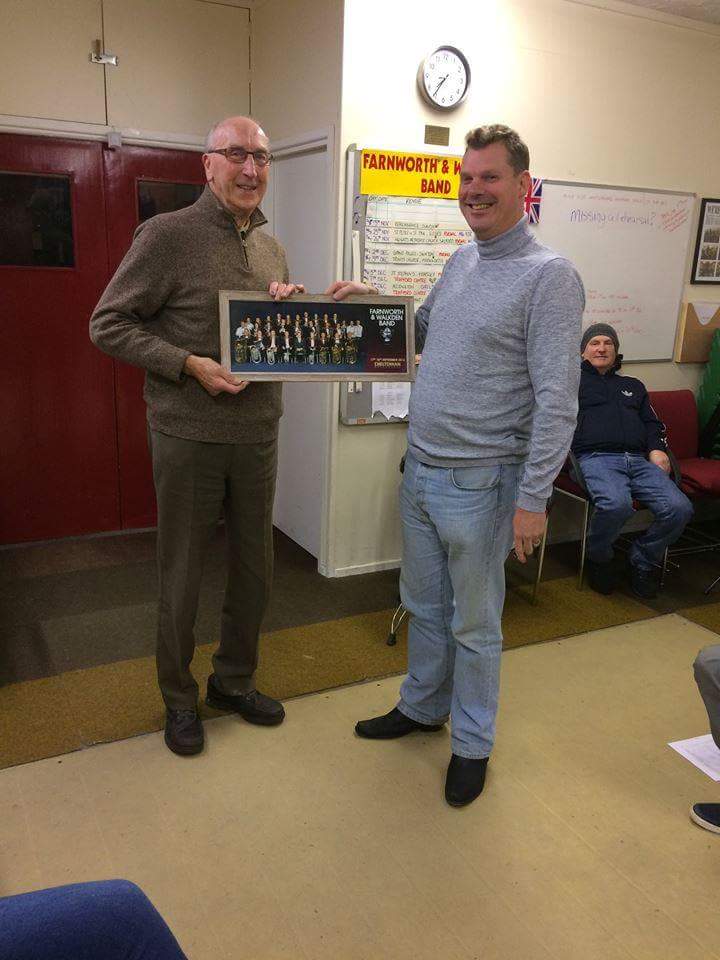 Sun 23rd October 2016

And it's a 2nd at Rochdale
Matt Shaw: "We've had a fabulous day today at the NWABBA Rochdale Contest. I'm very happy to say that Farnworth & Walkden Band and I came 2nd in our section, and were the highest placed NW band too. I've never heard an audience response quite like the one we got as we finished playing! I was very pleased with the performance we gave of Lake of the Moon, and every member of the band should be proud of themselves today. Well done everyone!"
AND well done to Matt!
Sun 18th September 2016
Cheltenham 2016 National Finals Placed 5th !!!
link to our Cheltenham page

from Matt Shaw
I am absolutely thrilled to say that, today(Sunday 18th September 2016), Farnworth & Walkden Band competed at the 3rd Section National Finals in Cheltenham, and after many months of hard graft and overwhelming effort, we placed 5th out of 19 bands, and are officially the best 3rd section band in the North West. I am so incredibly proud of each and every member of my band, for the work they've all put in not just to get the performance up to scratch this weekend, but to get us to the Finals in the first place.
This result is a great achievement for all of us, and I hope it has shown just what we are now capable of doing as a band. Special mentions to our featured soloists in the piece, Ernest, Adam, Tim, Jonathan, John and Lesley, and all the supportive families and significant others who were there today and through the last few months, but it was very much a team effort today, so well done everybody!
And to Matt from us all in the band, thankyou to a great conductor.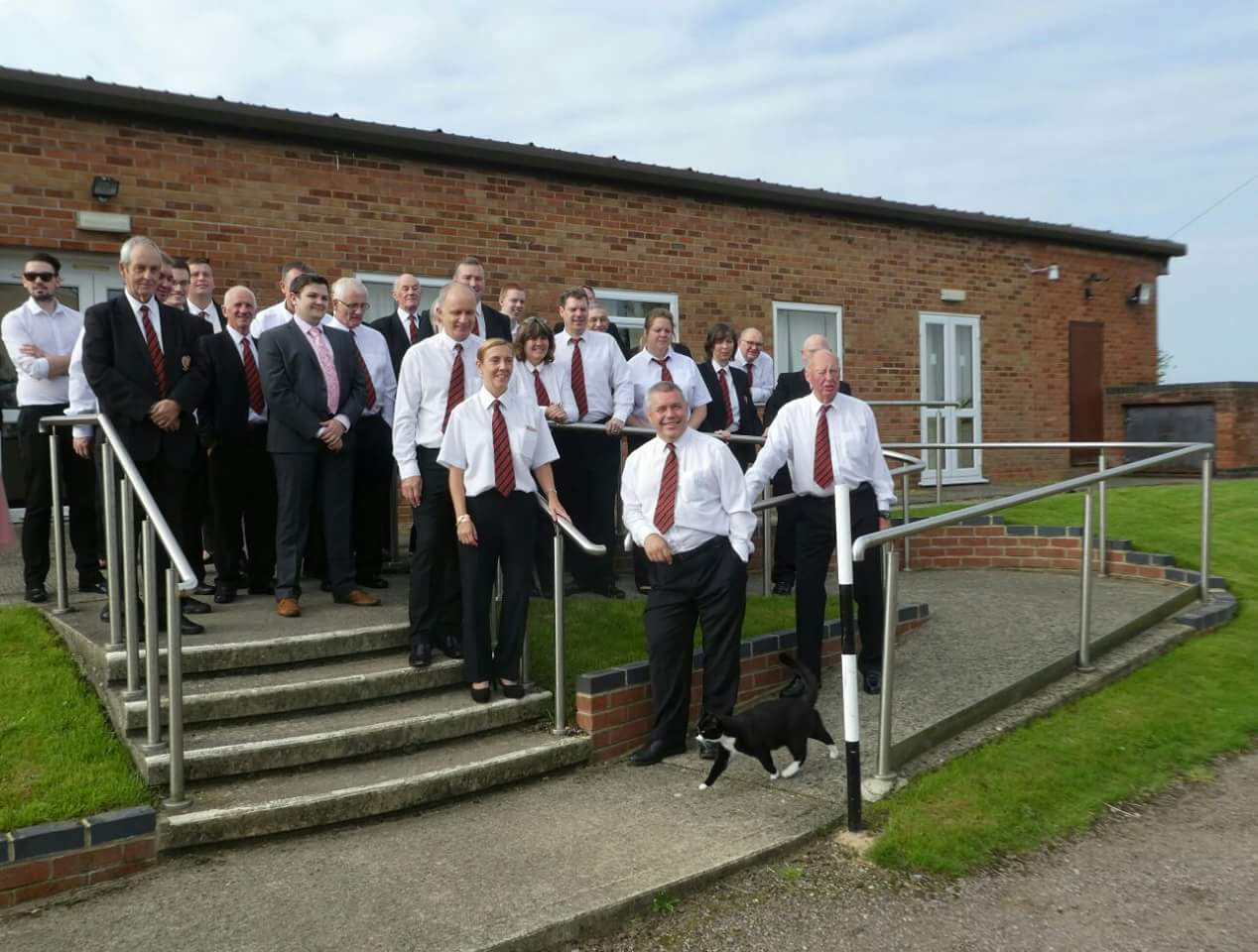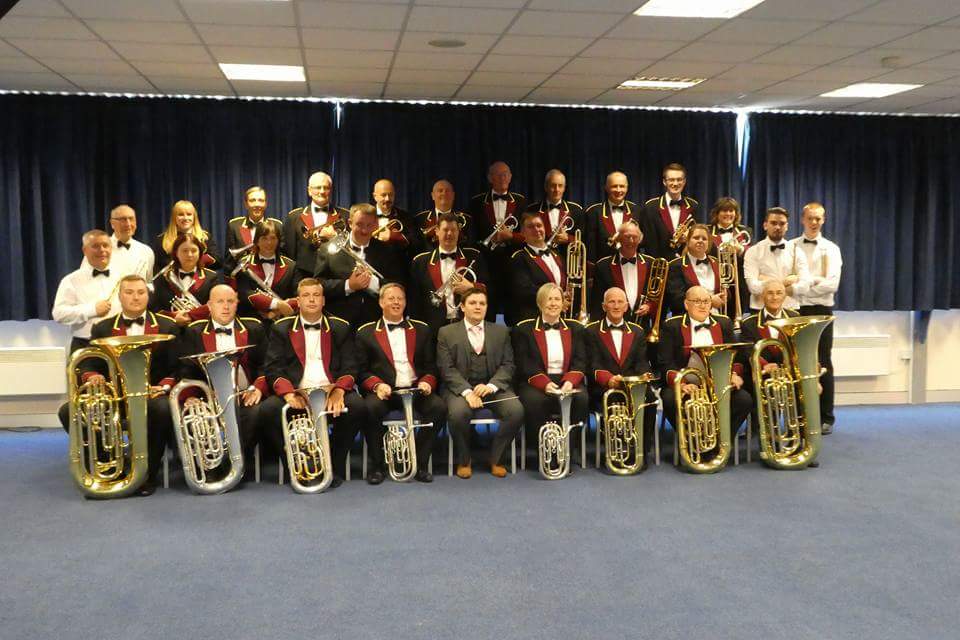 Below is Adam Galloway, our principal cornet, being presented with the certificate.
Friday 20th May 2016

Whit Friday Band Festival
Matt Shaw (MD)
It would seem that last night (20th May) was a very successful Whit Friday for my fantastic band, and I am indeed a very happy and proud MD. 4 'Best 3rd Section' prizes and an overall 3rd at Friezland, which considering we did 8 contests is an amazing achievement! Well done and thank you for all the hard work to the mighty Farnworth and Walkden Brass band!
Denton: (44 Bands) Adjudicator: Mike Lyons
Result: Highest 3rd Section: 1st
Dukinfield: (39 Bands) Adjudicator: Dave Chapman
Result: Highest Placed 3rd Section: 2nd
Hurst Cross: (36 Bands) Adjudicator: Richie Howard
Result: Highest 3rd Section: 1st
Friezland: (48 Bands) Adjudicator: Terry Newbigging
Result: 3rd Overall
Lydgate: (71 Bands) Adjudicator: Derek Southcott
Result: Best 3rd Section: 1st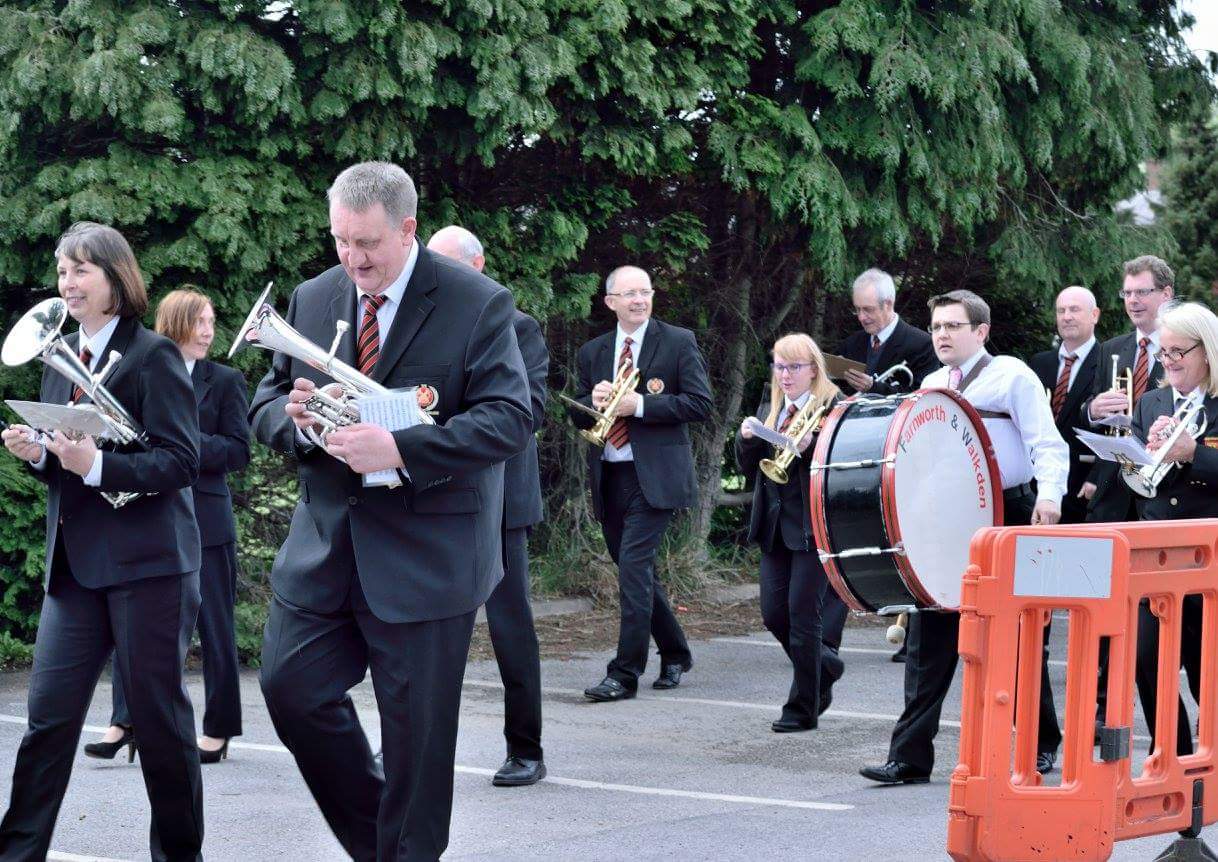 Sunday 8th May 2016

Buxton Brass Band Festival
Another 3rd for Matt at the Buxton Brass Band Festival. We played a 1st Section piece, "Essay for Brass Band" by Edward Gregson in the 3rd section of this own choice contest. It was the hotest day of the year so far and we played in a very hot marquee just outside the Octagon Hall which is in the process of being refurbished at the moment. Well done to all.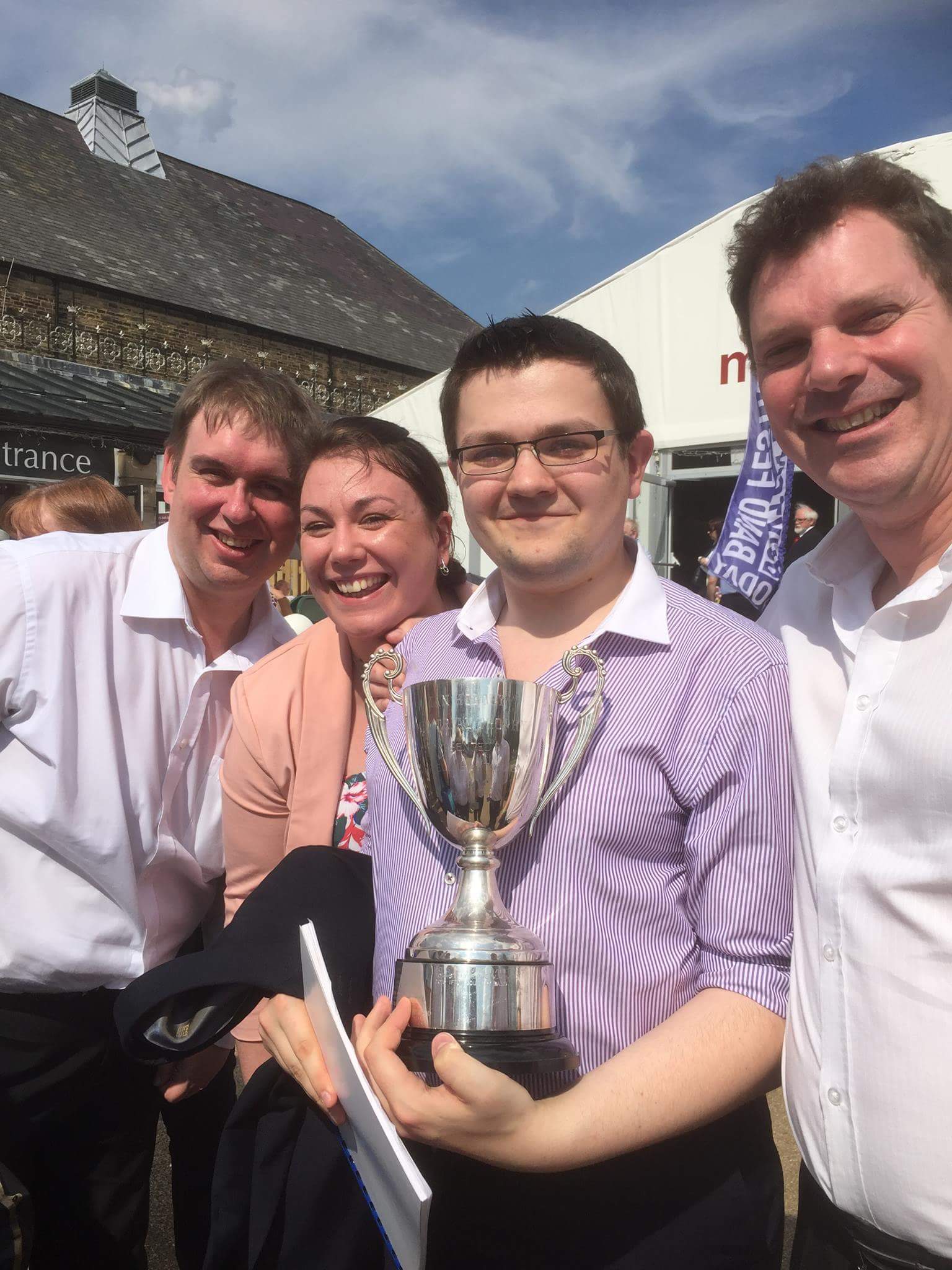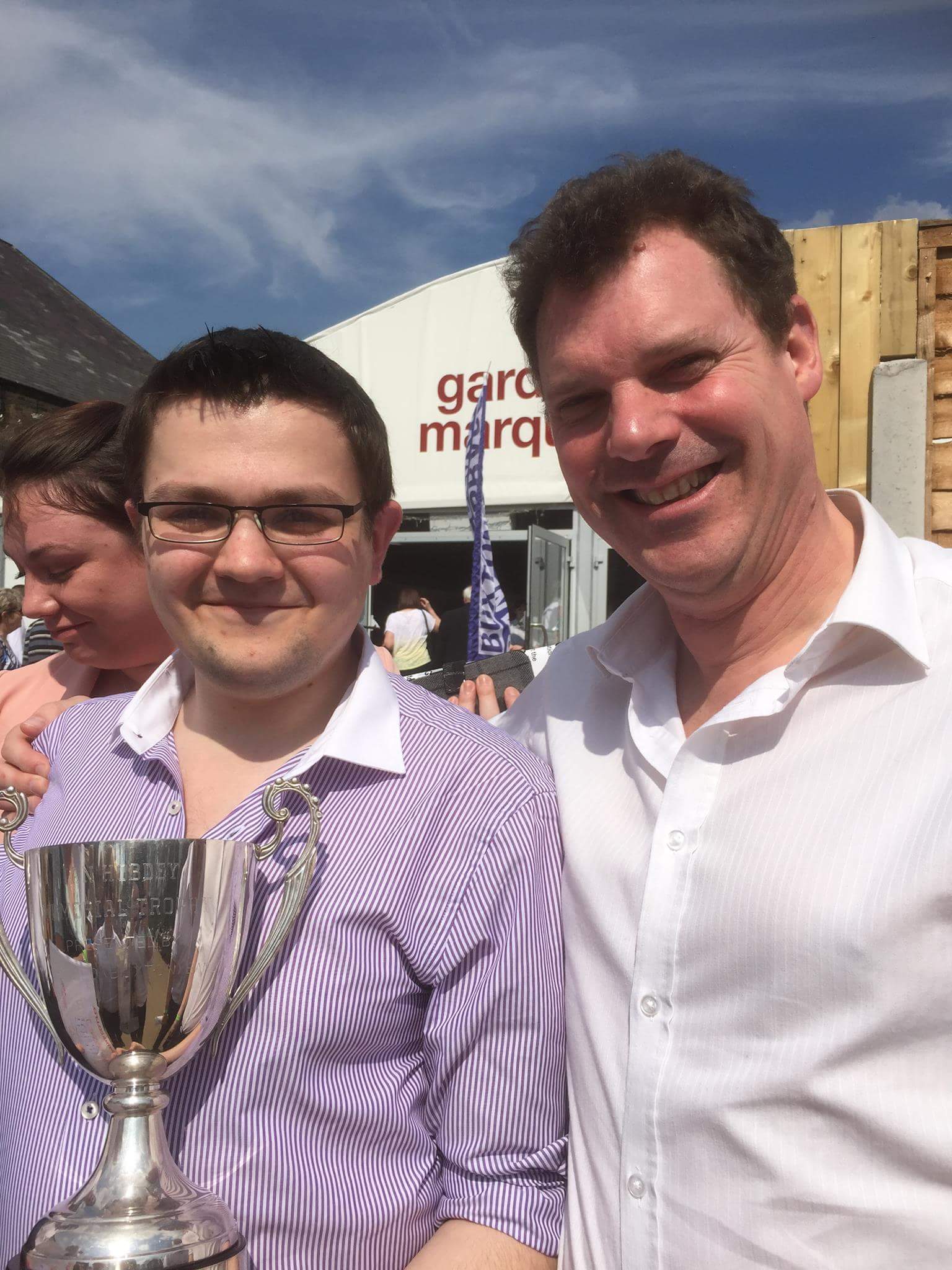 Sun 28th February 2016

North West Regional Championships
North West • Sunday 28, 14:55:10
YES we have made it to Cheltenham ! with a Third place at the Blackpool Regionals.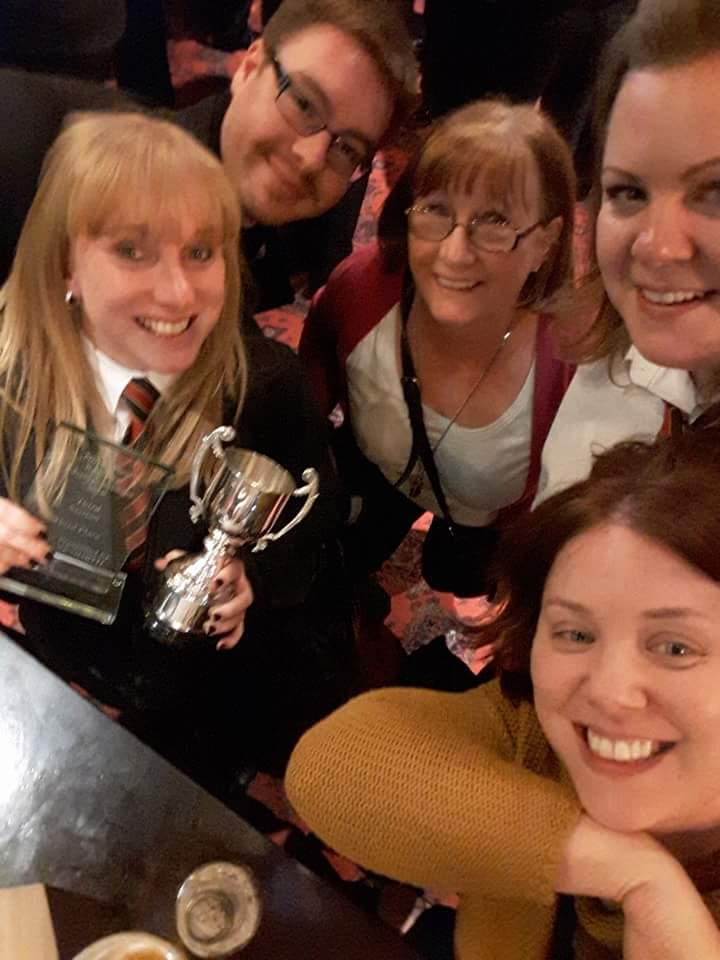 Further to the Bands success at Preston in January, on 28th Feb we came 3rd out of 19 bands in the third section Regional contest at Blackpool. We played the same Cambrian Suite and it's congratulations again to Matt Shaw, our conductor. It means we qualify for the National finals in Cheltenham on the weekend of 17/18th Sept. Before that though we have a busy summer and one or two other contests along the way.
24th January 2016

2016 Brass at the Guild
On Sunday January 24th the band competed against 7 other bands in the 3rd section of the N.W. area brass band competition at the Guild Hall Preston.
What a start for our new M.D. Matt Shaw. This was his first contest in complete charge and helped us to win first prize in our section beating a very good Blackpool brass into second place. Matt won an engraved glass trophy for the winning conductor as well as a cheque for £400 for the band.
The result was a fine team effort by all band members,including the soloists,
Stuart (cornet),Jonny (flugal),Amanda (horn) and Ernest (euphonium).
However special mention must be made to our long serving soprano John Brooks and our newest member Dean Davoll,on bass trombone,who won best soloist and best trombone respectively,along with engraved glass trophies.
The adjudicator also gave praise to another new member Lesley on solo trombone and our 5 man bass section featuring Matt, Bill, Jon, Gary and Neil.
The band has taken great pride in this win and hope to emulate this feat in their next contest in the Winter Gardens,Blackpool on sunday February 28th.
Everyone is looking forward in the hope of qualifying for the finals in Cheltenham later in the year.
8th Sept 2015

Ken and Harold Retire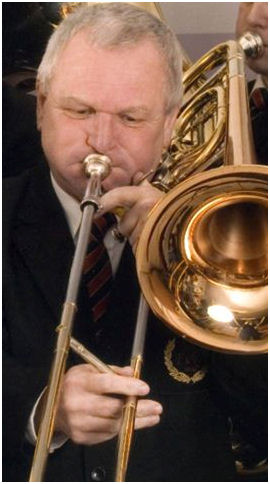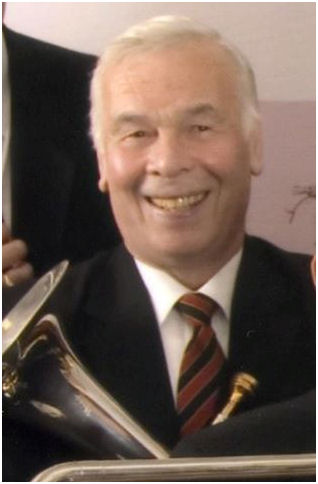 Two of our long serving members, Ken Wolstenhome on bass trombone and Harold Schofield on baritone have decided to retire after many years of loyal service to the band. Ken played for Walkden Band, and Farnworth band as individual bands and then with the merged bands of Farnworth and Walkden. Harold played with the Farnworth / Eatons band and later with the combined band, Ken and Harold lived locally and used to travel with each other to jobs and rehearsals which both attended regularly.
They will be greatly missed for their enormous contribution and all band members send their thanks, gratitude and best wishes. We expect to see them both down at some future rehearsal or engagement.
19 April 2015


Retirement of Peter our Conductor
Here are couple of photos of Peter, at his last official rehearsal with the Farnworth and Walkden band before his intended retirement from conducting.
Thanks Peter for all you have done for the band, and in having to put up with us for the last 15 years or so. We have enjoyed your rehearsals so much and will miss you.
Peter's last engagement as band M.D. will be at Formby Hall Atherton on Sunday 19th April 2015.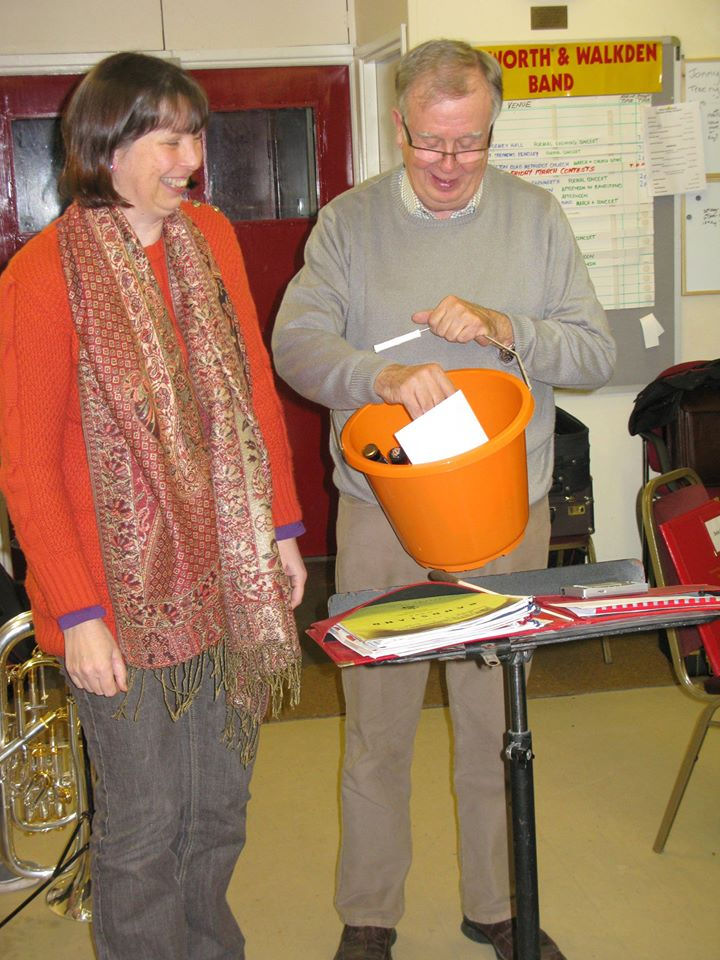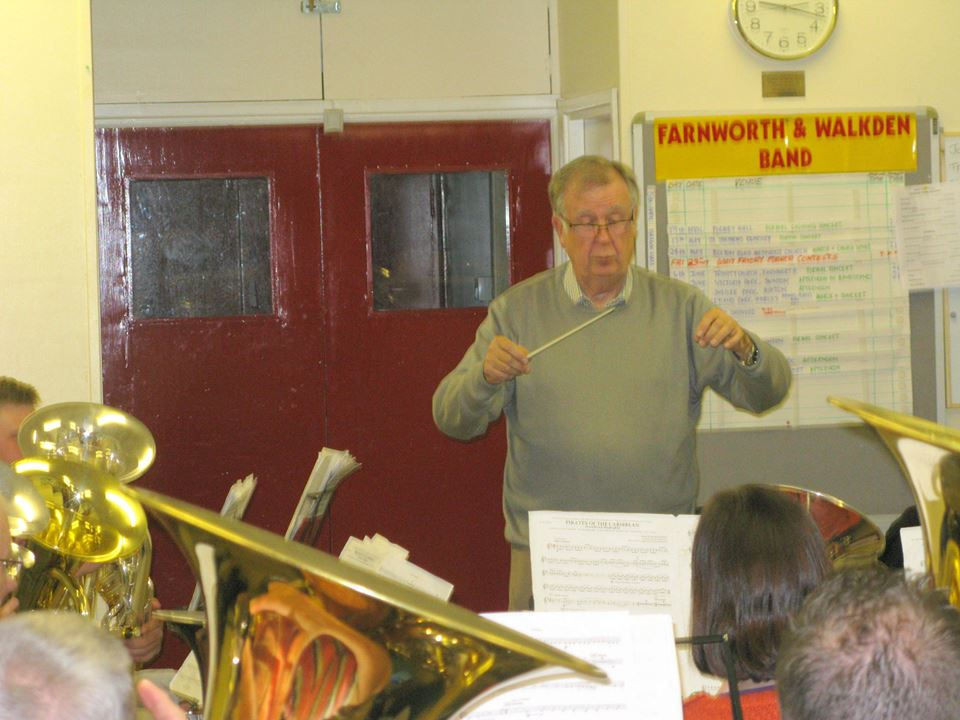 The spirit of Peter and his sense of humour will always be remembered especially with visions of him conducting Pirates of the Caribbean with a sword!!! at Formby Hall. Our thanks for another wonderful concert a hard act to follow.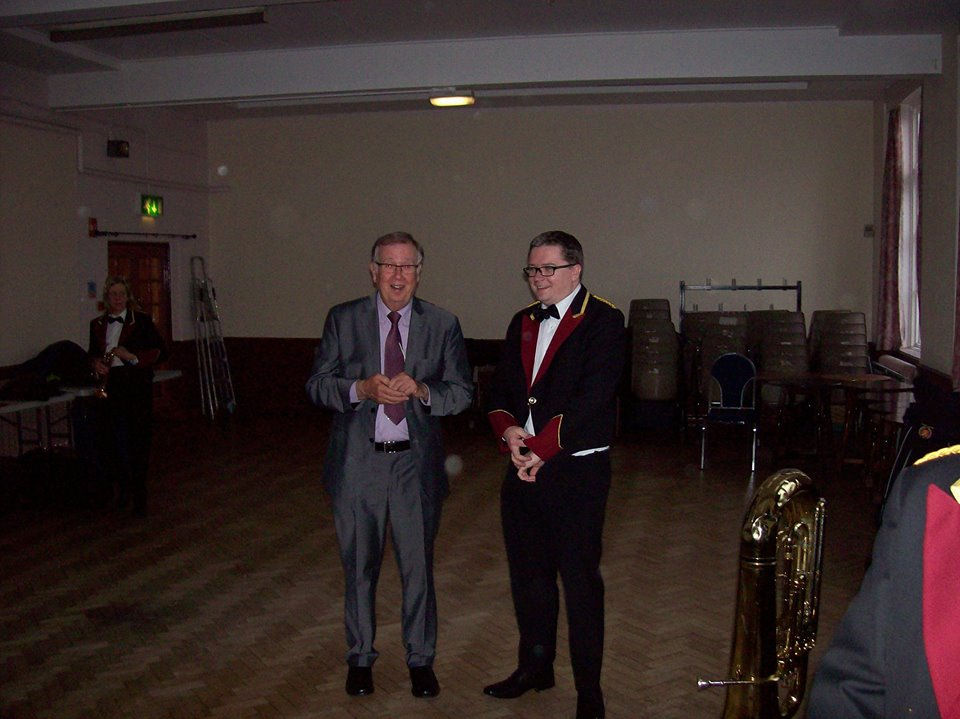 7th May 2012

A cold wet day in Wigan.
Lovely bandstand in Mesnes Park, but the weather wasn't with us. Rain in the first half and a biting wind in the second half, but the band played on. Our start was delayed for a few minuets by an inquisitive dog weaving its way through the stands. Thanks to Mrs Roscos peg bag most of the music stayed in place though Ernest lost it for a moment in the euphonium solo and it had to be rescued by Stuart and Peter. I recommend the cafe at half time for their tea and coffee, but maybe not the Fredicks ice cream this time.
29 Apr 2012

Buxton Brass Band Festival (Third Section)
The first time at this contest since 1999. On a cold and rainy Sunday in Buxton. It was a short practice in the band room at 9:30am and then off to Buxton, made it just in time for the draw at 11:30. The band was drawn 6th so we could catch the first band on at 12:30 before it was back to the coach for the instruments. The contest went fine but we missed out on the prizes by one place with a 4th. Don't think the adjudicators liked our beginning but the whole piece went very well.
Buxton Brass Band Festival (Third Section), 29th Apr 2012
Own Choice Test Piece Contest
Adjudicators: John Berryman
Venue: Octagon Theatre, Pavilion Gardens, Buxton
Band Conductor Test Piece
1st Whitworth Vale & Healey John Binns Episodes for Brass (Churcher)
2nd Boarshurst Silver David W. Ashworth Three Miniatures
3rd Hazel Grove Nigel Beasley Tam O'Shanter's Ride (Wright)
4th Farnworth & Walkden Peter Ashley Variations on Laudate Dominum
5th Old Hall Brass John North The Dark Side of the Moon
6th Besses Boys James Holt
7th Ripon City Malcolm Dibb
8th Dronfield CMW John Davis
9th Hucknall & Linby MC Paul Whyley Purcell Variants
25 March 2012

John Golland
Picture of the plaque erected to John Golland at Duckinfield Town Hall 25/03/2012.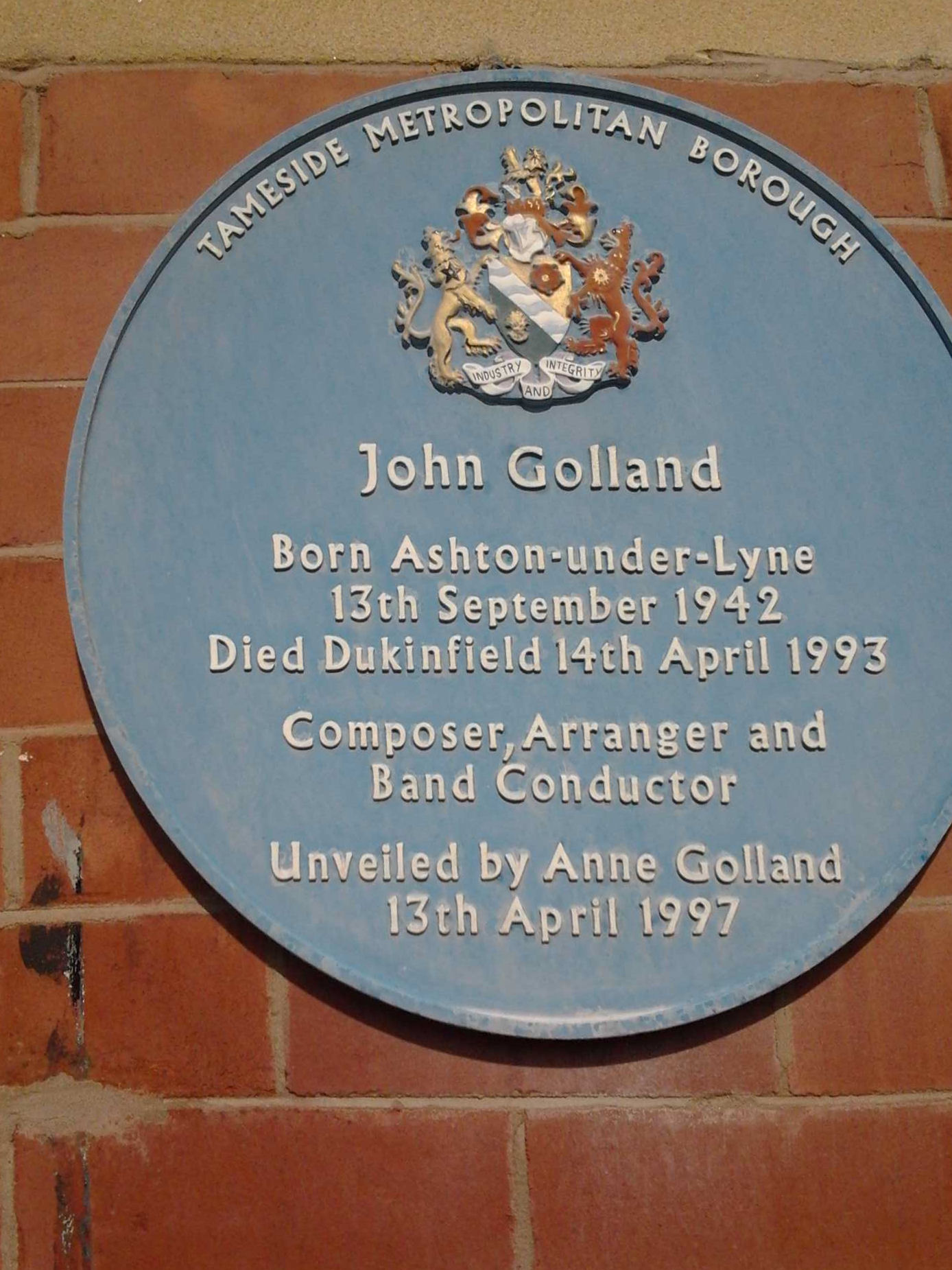 John was the MD of Walkden Band (1974/75) and the band was his first ever band when he started his conducting career. He left Walkden to conduct Fodens.
John Golland was born in Ashton-under-Lyne on Sep 14 1942, died in Duckinfield on April 14th 1993, after a long illness.
The plaque was erected on April 13th 1997 at Dukinfield Town Hall by Anne Golland in celebration of the life of John Golland, a composer, arranger and band conductor, born in Ashton-under-Lyne and who lived in Dukinfield all his life. He was famous for arranging incidental music for three television series of Dear Ladies (Hinge and Bracket), but known throughout the brass band world for his conducting, composing and arrangements.
Contests with Walkden Band
30th Mar 1975 Pontins (Championship Section) Walkden Band 11th
23rd Mar 1975 North West Area (Championship Section) Walkden Band 5th
10th Feb 1974 Watney Mann Championship Walkden Band 3rd
25th March 2012

Tameside Open Contest
Well done to the band, with a second in the third section at Tameside contest, with Variations on Laudate Dominum. There were 6 bands competing today and the band was piped to the post by Formby playing Olympus. The full results were:-
1. Formby, conductor Louise Hough, Olympus
2. Farnworth & Walkden, conductor Peter Ashley, Variations on Laudate Dominum
3. Trinity Girls, conductor Stuart Barton, Olympus
4. Blackpool Brass, conductor Tariq Ahmed, The Dark side of the Moon
5. Besses Boys, conductor James Holt, Olympus
6. Rivington & Adlington, conductor Brian Harper, Music for Kantara
and the adjudicator was Andrew Warriner
22nd Mar 2012

Wetherspoon's The Bull's Head Hotel Walkden
Members of Farnworth and Walkden brass band at the opening of the newly refurbished Bull's Head Hotel, in Walkden. The picture appeared in the Wetherspoon's magazine.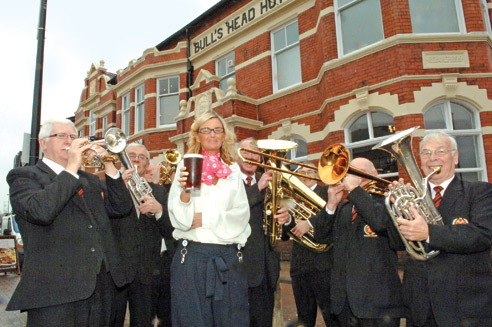 Click Picture for a link to the article
5th March 2012
Brass at the Guild - Brass Band Championships
There should have been a rehearsal at 9:00am but the 5 inches of snow and freezing fog meant some frantic phone calls to cancel the rehearsal and a slow careful drive to Preston. No snow in Preston though but still cold.
The second section was pre-drawn and should have started at 11:00am, we were second on. The first band on was delayed though because some of their players had not yet arrived, so there was a delayed and the 2nd section didn't start until 11:20am.
It was a own choice so we played Variations on 'Laudate Dominum' (Rivised version) by Edward Gregson. It's quite a long piece but has some lovely melodic passages. All went well on stage and our conductor came off smiling. Only our second year in the 3rd Section, so getting a 4th was very good, not in the money but a good result all the same. Better luck next time.
Are We The Oldest ?
Here's a challenge for you. See if any other band could beat the continuous service of our trombone section.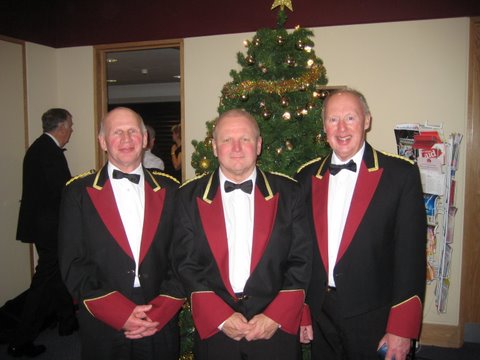 From left to right
Chris Barratt
Solo Trombone aged 65 with 55 years continuous playing service with Farnworth Band and Farnworth and Walkden Band.
Ken Wolstenholme
Bass Trombone aged 65 with 40 years continuous playing service with Farnworth Band and Farnworth and Walkden Band.
Bill Roscoe
2nd Trombone aged 71 with 63 years continuous playing service with Walkden Band and Farnworth and Walkden Band.
Making a grand age total of 201 years and a grand playing service total of 158 years, with the same band.
We challenge any other band's trombone section out there to beat this total.