SUNDAY 26, 19:40:55
4 Bars Rest

Results
Third Section:
Test Piece: 'Darkwood' — Dan Price
Adjudicators: Steve Pritchard-Jones and Glyn Williams
1. Rivington & Adlington (Matt Whitfield)*
2. Trinity Girls (Ryan Watkins)*
3. Formby (Louise Hough MBE)*
4. Greenfield (Tom Haslam)
5. Eagley (Chris Wormald)
6. City of Chester (Ewan Easton)
7. Pilling Jubilee Silver (Len Charnock)
8. Hawk Green (Neil Hewson)
9. Skelmersdale Prize (James Hall)
10. Farnworth & Walkden (Matt Shaw)
11. Greenalls (Phil Boardman)
12. Eccleston Brass (John Wood)
13. Stacksteads (Fred Bowker)
14. Dobcross Silver (Grenville Moore)
15. Douglas Town (Ken Mitchell)
16. Stalybridge Old (David Ashworth)
17. Littleborough (Adrian Woodhead)
18. Coppu ll & Standish (Matt Stringer)
*Top two bands qualify for the National Finals in Cheltenham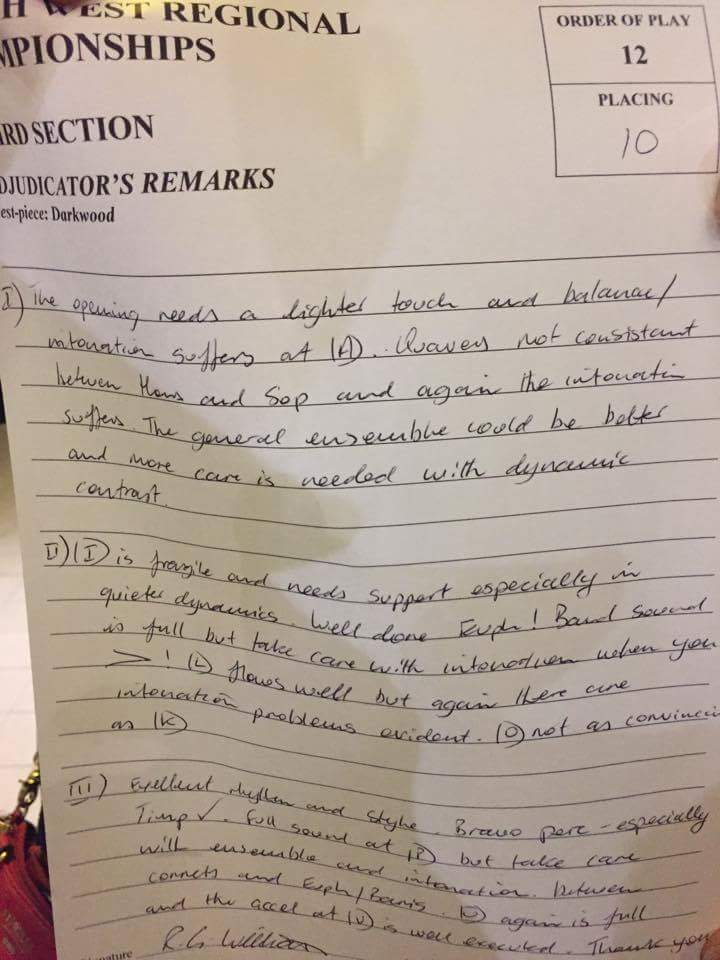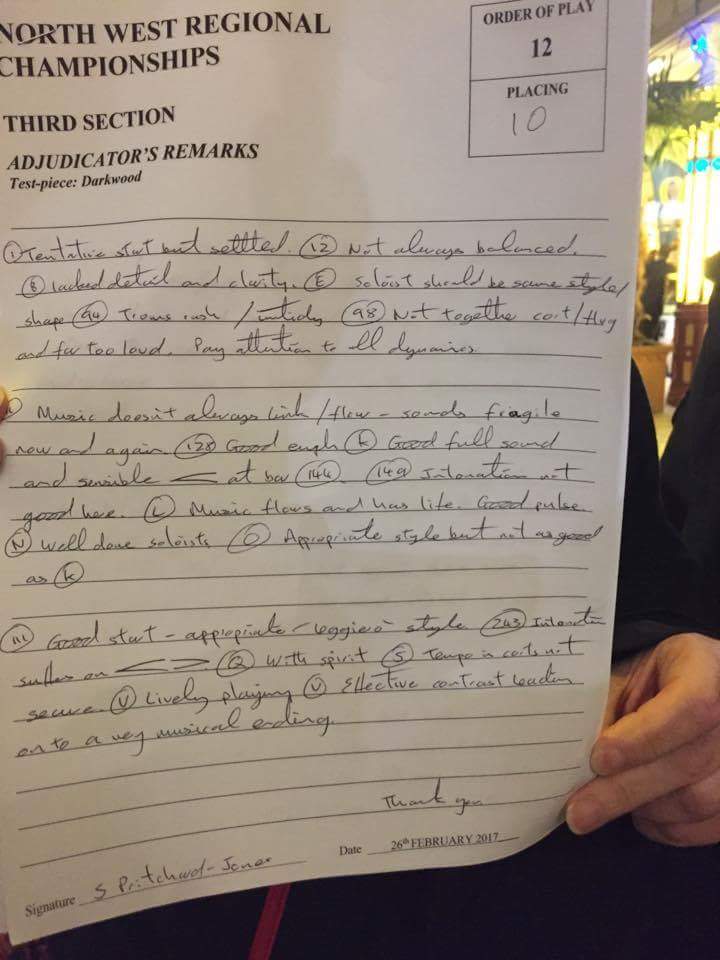 SUNDAY 26, 19:01:2
4 Bars Rest

Final thoughts and Predictions
Third Section:
It has been a contest today where the piece has certainly ensured there has been plenty to keep players, judges and audience alike engaged.
Dan Price's Darkwood is a good test at this level and has provided plenty of challenges for the bands to pull off.
It really is how the judges call it in the box though and this won't be the easiest contest to predict:
4BR Prediction:
1. Trinity Girls
2. Stalybridge Old
3. Formby
4. Eccleston
5. Hawk Green
6. Eagley
DH: Dobcross Silver
SUNDAY 26, 17:27:35
4 Bars Rest

12. Farnworth & Walkden (Matt Shaw)
Third Section:
Farnworth deliver a secure account that left you wanting just a little bit more. The basics were fitted nicely together and the three sections linked well each bringing out style and character.
The safety element was there and fair play to the conductor he kept a firm hand on things, but you knew the band just wanted to push things along a little bit more.