Welcome To

Farnworth And Walkden Band Website


Farnworth & Walkden Band are a friendly North-West band graded 3rd Section. Throughout the year we are busy with many concerts and contests. We rehearse on Monday and Wednesday 8:00PM-10PM in our own Bandroom
It's that time of the year
The last Christmas Concert done and dusted, and very well received at St. Augustines in Pendlebury. A very lovely church to finish on. Only the Intu Trafford Centre to do on Tuesday the 20th and then a well earned break. It's all back to work on the 2nd January though, got to get the test piece ready for Butlins.
News
Sat 3rd December 2016


Congratulations to Bill Roscoe
Congratulations to Bill Roscoe on 69 years service to brass banding. Seen here receiving a well deserved diamond service award from the Brass Band Association during the concert at Trinity Church Farnworth.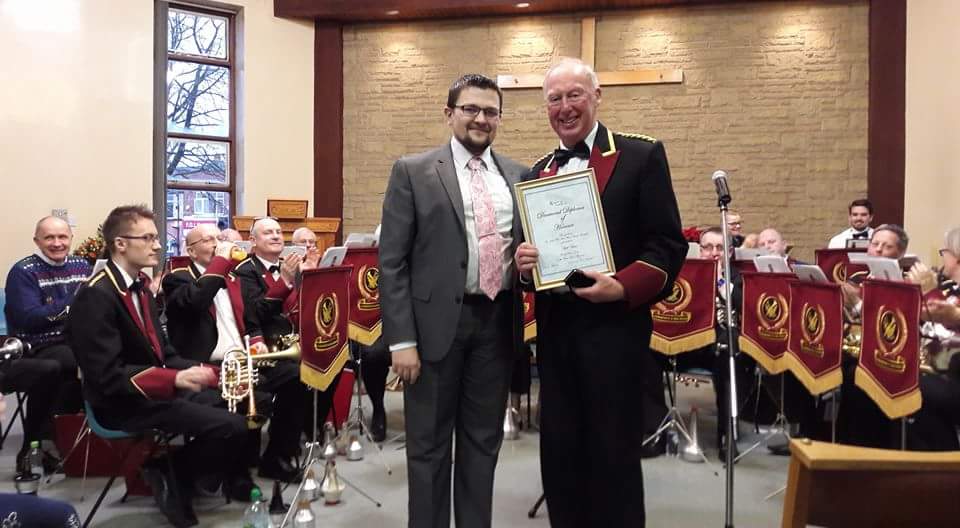 Thank You Arthur
Arthur Worrall, percussionist and long time loyal servant of the band has decided to hang up his sticks. His ingenuity in constructing equipment, including building additional tubular bells, is highly renowned. He will continue to be involved with the band and his advice will still be relied on. Below our Chairman, Jonny Earl, presents Arthur with a picture of the band at Cheltenham.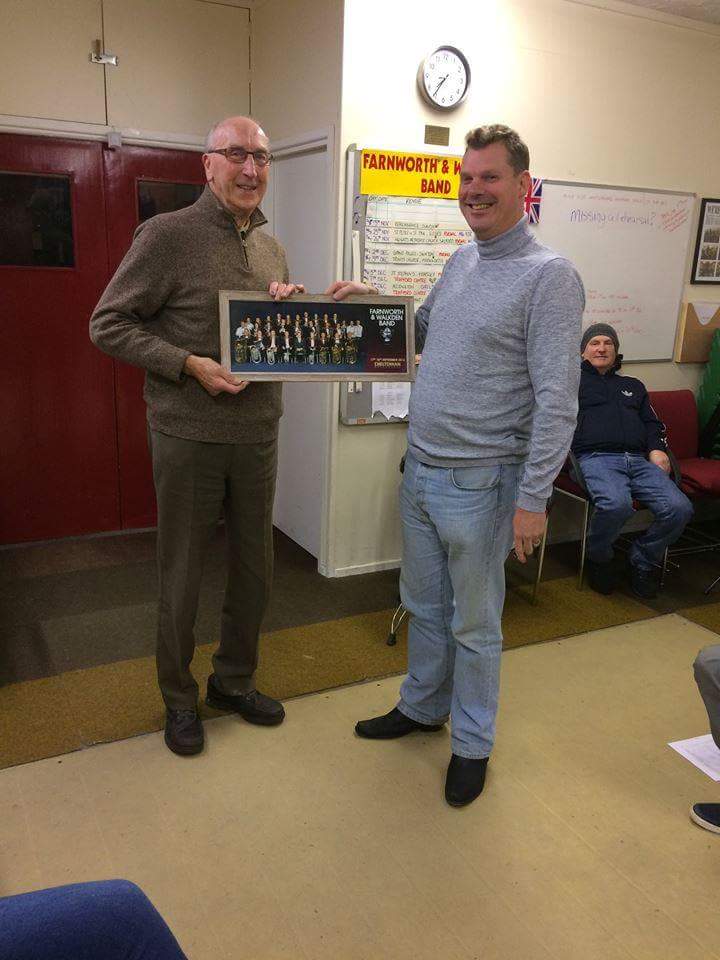 Vacancies
Player Relocations
Due to player relocations, Farnworth & Walkden Band (3rd Sec. National Finalists 2016, 3rd Sec. Winners Preston Contest 2016) have immediate vacancies in the cornet section (3 seats available; positions negotiable, but principal cornet available for the right candidate) and a Tuned Percussion vacancy.

The band have had a very successful and progressive year in the 3rd Section under their new MD, Matt Shaw, having had podium finishes at all major contests entered, including 3rd at the NW Area and 5th at the National Finals. The band and MD would ideally like these vacant seats to be filled in time for the January "Brass At The Guild" and later Blackpool (NW Area) Contests. Instruments are available if required.

Rehearsals Monday+Wednesday evenings 8-10pm in the band's own bandroom in Walkden. Any interested parties, or anyone wanting more information, should contact MD Matt Shaw on 07729442649, or matt-j-shaw@live.co.uk , or see our Contact page.




Percussionist tuned and timps
but all players are welcome for a blow
Coming Up -
Date
Name
Venu
Time
Sun 14th January 2017
Butlins
Skegness
Sun 29th January 2017
Brass at the Guild
Preston Guild Hall
Sun 26th February 2017
Blackpool Contest
Blackpool Winter Gardens